342, 346, and 348 Lafayette Street
Judge Charles R. Tessier (notable person of Baton Rouge's past) and family lived in the section with the gable-like vent, for it is said that he lived in the Northern-most section, another source said that he lived at No. 348, t
here are actually two building's joined together, the first construction was build in 1762, another section added latter in the mid-1800s.
From what I have determined by examining my photo, if you divide the structure by the ridges on the roof, it appears that the first
section which the leaves in the photo partially cover, that that may be the 1762 structure and then the last section was added on in mid-1800's. It is my belief that the 1762 structure was not originally divided as the double door in right in the middle of the earlier structure, but today, as a whole, there are three address's.
Judge Charles R. Tessier's accomplishments

(Not in chronological order)

:
*Commander of the Baton Rouge militia.
*Served as a Major under the command of Andrew Jackson in the "War of 1812".
*First Worshipful Master of "L'Etoile Flamboyante [Masonic] Lodge No. 10" [Baton Rouge]. Source
Jules F. and Frances L. Landry owned the building since 1951 until 2011.
Legend holds that the Marquis de Lafayette made a speech from the balcony in 1825. Source
After the Tessier's lived here (N. section) it was the home of Judge Daniel Avery, who sold the buildings in 1854
, who became a planter at Petite Anse Island and renamed it Avery Island.
Judge Avery's son-in-law developed Tabasco Sauce.
Source
[Accomplishments of] Daniel Dudley Avery (1810-1879) of Baton Rouge, lawyer, state senator, judge, and sugar planter.
Source
Marker reads:

"One of the earliest remaining architecturally significant building of the city. Originally the residence of Judge Charles Tessier, first Probate Judge of East Baton Rouge Parish, who acquired the property in the early 1800's through the claim of Richard Devall (of Devall Town).
By legend, the Marquis de Lafayette
*
is said to have visited Judge Tessier here in 1825."
Besides all of Judge Tessier (pronounced 'tess shay') great status and accomplishments he was also the commander of the Baton Rouge militia.
The Judge evidently was married twice, I have been told by someone in the Tessier lineage that he married his wife's sister some what after the time his first wife died, their names would be Lydia and Catherine Clien, if my facts are correct and I can not swear to the judge's household pedigree.
Mrs. Lydia Tessier, wife of Judge Tessier, died in childbed (i.e., childbirth) on Oct. 12, 1822 at 8 am, according to the "Baton Rouge Gazette".
ref
Miss Emily Tessier, daughter of the Judge and wife, died on No. 20, 1822 just a month after Mrs. Tessier died. (ref above) The Tessier's had another daughter Josephine Eleonore Tessier.
Charles R[obert] Tessier served as a major under the command of Andrew Jackson in the "War of 1812".
[Bold and a asterisk added in plaque quote for note and significance of character and achievement]
*
General Gilbert du Motier, Marquis de Lafayette, a French officer who fought along side with General George Washington in the American Revolutionary War.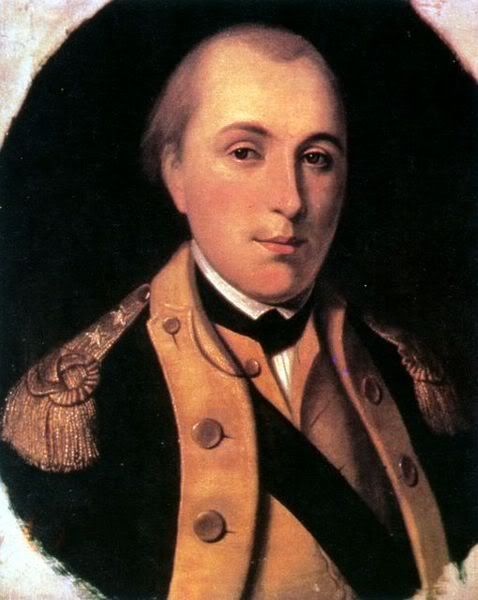 Marie Joseph Paul Yves Roch Gilbert du Motier,
the Marquis de Lafayette,
commonly referred to simply as, "General Lafayette".
In 1824-25, at the invitation of Congress,
Lafayette was invited back to American, and he return and began a "triumphal tour"
,
he visited all 24 states . Everywhere he went he was greeted by immense crowds and celebrated as a Founding Father. He spent a week in Louisiana visiting New Orleans and Baton Rouge, accompanied by his friend Armand Duplantier who had served with him during the American Revolution...

It is documented that in 1825, Judge Tessier with a delegation of other men, went to New Orleans to implore General Lafayette, to come the city in order that the city may honor him which he did. General Lafayette, was invited back to American, and he return and began a "Victory Tour" and he was at New Orleans when the Baton Rouge delegation called upon him.
To
commemorate the occasion of his visit the city renamed Second Street to Lafayette Street.
Upon the conclusion of the American Revolution
General Lafayette wrote
: